Description
Take A Shot And Shut The Fuck flask
This hip flask speaks for itself really, the quote says it all. It's hilarious and it sounds like something we should say anyway when we're drinking!
You can fun your life (make your life fun) with the smallest things.
Take A Shot And Shut The Fuck flask benefits:

Your bro's will think you're a boss.


Fun hip flask with a fucking attitude.


The conversation piece of every party.


Awesome gift for your drinking buddies.


The best drinking quote ever for ever ever.


Has all the party peeps laughing because of your epic flask.


Very handy for travelling and outdoor activities like camping, fishing, hunting, and more.
The Take A Shot And Shut The Fuck flask is made of stainless steel, which will not rust or corrode. It's a single piece of stainless steel so it's as strong as the chest of the Hulk. The screw-down lid is leak proof, has serrated aluminium and is attached with a hinge. So you won't get wet pants, panties or whatever you cool guys wear these days. If your fingers are wet you can still get it open and you will never loose the lid. This hip flask is the perfect size to fit in your pocket so you can take it anywhere. Oh and yeah, did I say it has an awesome phrase on the front? Plenty of people should take that advice.
So surprise yourself or someone with this hip flask, because it's epic.
Unique hip flask
You will not see the Take A Shot And Shut The Fuck Up Flask everyday. And that's why every party or other activity you will bring this unique flask. People will think you're cooler than the other side of their pillow.
Awesome combo with our 3D Skull Glass: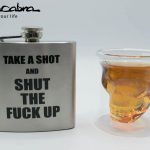 If you're wondering what 3D Skull Glass is displayed in the photo's (we get that question a lot). It is an awesome combo with the 3D Skull Glass.
Click here for our 3D Skull Glass.
Hip flask gift wrapping service
We gift wrap the hip flask for free! Giving, getting and buying yourself gifts is fun, so all our products are always wrapped in fun gift paper. Do you have a special request? Let us know in the checkout comments. We love special requests and are happy to do something extra for you!
Thank you for reading our Take A Shot And Shut The Fuck Up flask story, we put a lot of love in writing it. We hope you will have as much fun with this flask as we do?.