Description
3D Skull Glass
Drinking is fun but drinking from this epic 3D Skull Glass is awesome. This 3D Skull Glass has a double-walled design which makes it look like the skull is floating in mid-air. It keeps your cold drinks cold, your hot drinks hot and your ice melts slower.
You can fun your life (make your life fun) with the smallest things.
3D Skull Glass benefits:

Dishwasher proof.


Drink like a kingpin.


Perfect for theme parties.


Your drinks look epic as fuck.


Hand-Blown borosilicate glass.


Insulated double walled glass design.


Made of heavy duty lightweight glass.


The perfect gift for your special friends.
Pour your favourite drink and watch the skull reach its final epic form. Because of the floating skull design it projects a cool coloured glow on your table when light shines through the glass, as you can this in the pictures. The skull shaped glass is a real eye catcher for your parties, especially for Halloween! It's perfect for colourful spirits, whisky, wine, soft drinks et cetera. It has a generous 60 ml (2 fl oz) capacity. In addition to the rugged appearance, it is hand-blown and made of high quality lightweight glass. Because of the insulated double-walled glass you can also drink hot thee or coffee and the glass doesn't get hot on the outside.
So surprise yourself or someone with this 3D Skull Glass, because this glass is Supracool.
Hand-Blown borosilicate glass
This 3D Skull Glass is made with special borosilicate glass that offers unique characteristics. Borosilicate glass keeps your cold drinks cold, your hot drinks hot and makes your ice melt slower. This special type of heat-resistant glass is very durable and strong. It weighs much less than normal glassware while being stronger. Thanks to the double wall, the mugs remain cool on the outside when a hot drink is served and vice versa.
Borosilicate glass is so special because it's resistant to dramatic temperature changes and very hot and cold temperatures. This is because borosilicate glass doesn't expand and retract like normal glass. It has a much smoother internal transition between temperatures. It can even hold different temperatures simultaneously. That's why you can put a thick borosilicate glass tray with lasagne directly into a 300-degree oven and it doesn't shatter when you put it into cold water afterwards when it's still hot.
Unique 3D Skull Glass
All 3D Skull Glasses are blown by hand so every glass is unique in the very small detail. So you will have a one of a kind glass. The design is the same as in the pictures and every glass is carefully inspected so we always guarantee the quality. We've never had a return of the 3D Skull Glass because you guys love it.
Awesome combo with: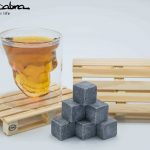 If you're wondering what Pallet coasters, Whiskey Stones and Flask are displayed in the photo's (we get that question a lot). They're an awesome combo with the 3D Skull Glass.
Click here for our Pallet Coasters.
Click here for our Whiskey Stones.
Click here for our TASASTFU flask.
3D Skull Glass gift wrapping service
We gift wrap the 3D Skull Glass for free! Giving, getting and buying yourself gifts is fun, so all our products are always wrapped in fun gift paper. Do you have a special request? Let us know in the checkout comments. We love special requests and are happy to do something extra for you!
Thank you for reading our 3D Skull Glass story, we put a lot of love in writing it. We hope you will have as much fun with this glass as we do?.