Description
Gold Playing Cards
Playing cards is fun but playing cards with these Gold Playing Cards is epic. They are a must have for everyone who likes to play cards. The beautifully designed card deck with perfectly matched colours is a real eye catcher on your table. The attention to detail is so unique that you will be inspecting every card you hold. It is the perfect card game for you and your playmates. We mean your card playing mates, not your Playboy Playmates. Well maybe you do have Playboy Playmates, in that case, bless you and give us a call sometime. We will give you this epic deck for free.
You can fun your life (make your life fun) with the smallest things
Gold Playing Cards benefits:

The perfect special gift.


Very detailed and uniquely made.


Even the matching packaging is beautiful.


Made of waterproof and durable flexible plastic.


Your playmates will love it, it is a great conversation starter.


Every Ace, King, Queen and Jack is unique between suits.


All cards have a very special structure that you can feel with your fingers.


The suits have a unique kind of kaleidoscopic effect when you turn the cards in the light.
The card game consists of 54 cards, all of which have a beautiful shimmering golden coating. The golden coating is so smooth that the cards are very easy to shuffle. The card deck consists of 52 normal cards and 2 jokers and comes in a beautiful matching golden package. All cards are made of waterproof plastic. So don't worry if your drunken buddy spills beer all over everywhere, you can easily clean them with water. All cards are also durable and flexible so they wont damage easily. This is really a card deck that would fit perfectly in the Las Vegas casinos.
So surprise yourself or someone with these Gold Playing Cards, because these cards are epic.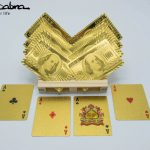 If you're wondering in what mini pallet the cards are displayed in the photo's (we get that question a lot).
Click here for our Pallet Coasters.
Gold Playing Cards gift wrapping service
We gift wrap the Gold Playing Cards for free! Giving, getting and buying yourself gifts is fun, so all our products are always wrapped in fun gift paper. Do you have a special request? Let us know in the checkout comments. We love special requests and are happy to do something extra for you!
Thank you for reading our Gold Playing Cards story, we put a lot of love in writing it. We hope you will have as much fun with these cards as we do?.