Description
Wooden Shot Glass Server with 6 glasses
Everybody knows, you take shots or you take shots like a boss. With this Wooden Shot Glass Server with 6 glasses you definitely take shots like a boss.
You can fun your life (make your life fun) with the smallest things.
Shot Glass Server benefits:

Includes 6 shot glasses.


Strong, handy & cool design.


Get creative with different drinks.


Make your drinking table special.


The perfect gift for your drinking buddies.


Take shots like a boss while looking fancy.


Be the coolest drink server ever in the history of mankind.
Wooden Shot Glass Server with glasses, we know, it sounds like a mouthful but that's because it's so cool. And we mean shot glasses when we say "with glasses" not eye glasses. Yes, we've got that question before.
You will get a real wooden server including 6 matching shots glasses. The server is made of robust wood and because of the two integrated wooden blocks on the bottom it always stands firmly and stable. Doesn't matter if it's filled with delicious shots or if it's empty. We can not insure that you won't spill when you are walking because we don't know the state you're in. But we can insure you that this shot glass server is as stable as it gets.
We've been informed that you can also use the wooden paddle as a slapping bat when somebody lost a drinking game. Because of its strength, it's not very painful and it leaves unique marks. Well, we wouldn't recommend it but who are we to judge! Still, you can not sue us in any way if you do engage in such abnormal activities. Also we've heard that you can try to play cricket with it, but we seriously doubt if that will work.
So surprise yourself or someone with this Shot Glass Server, because it's drinktastic.
Awesome combo with the Gold Playing Cards: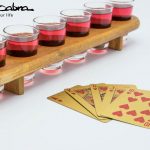 If you're wondering what Gold Playing Cards are displayed in the photo's (we get that question a lot). It's an awesome combo with the shot glass server. Click here for the Gold Playing Cards.
Shot Glass Server gift wrapping service
We gift wrap the Shot Glass Server for free! Giving, getting and buying yourself gifts is fun, so all our products are always wrapped in fun gift paper. Do you have a special request? Let us know in the checkout comments. We love special requests and are happy to do something extra for you!
Thank you for reading our Wooden Shot Glass Server story, we put a lot of love in writing it. We hope you will have as much fun with this server as we do?.